Hours & Services
Extended Hours
Extended hours begin Saturday, November 27, 2021.
Daily
Monday – Saturday: 10am – 9pm
Sunday: 11am – 8pm
Holidays
Black Friday: November 26, 9am – 9pm
Christmas Eve: December 24, 9am – 6pm
Christmas Day: December 25, CLOSED
Boxing Day: December 26, 8am – 8pm
New Year's Eve: December 31, 9am – 6pm
New Year's Day: January 1, 11am-6pm
Regular shopping hours resume on Monday, January 3, 2022.
Charity Gift Wrapping
December 1 – 24 | Located on the Upper Level around the corner from Purdys Chocolatier
Monday-Saturday: 10am-9pm
Sunday: 11am-8pm
Let us help you wrap up the holiday. All proceeds go to benefit the Swan Connection- Newmarket.
The Newmarket Swans Club is an interconnected community of women business owners sharing a journey of personal growth and professional development leading to success. They work diligently in the community to improve life for those less fortunate.
Gift Cards
This holiday, let them find what they love!
Shop in Mall
Purchase your gift card in person at the Guest Services Desk or our new Gift Card Kiosk located just outside of the Market & Co. entrance, by the elevator. View Map

eGift Card
Enjoy the convenience of purchasing at home and gift instantly using our new eGift Cards. Recipients will receive an email or SMS with a barcode to redeem at the Guest Services Desk or our new Gift Card Kiosk located outside of the Market & Co. entrance, by the elevator. Buy Now
Group Gifting
Send an eGift Card as a group for any occasion. We make it easy to invite friends, family, and colleagues to contribute. Start a Group Gift.
Corporate eGifting
Reward your employees or thank your customers instantly with eGift Cards. Enjoy the convenience of buying eGift Cards in bulk and have them delivered to your recipients via email. Order Now
Live Chat
Questions? We're here to help! Our representatives are at your service.
Text Us: 905-218-1630
Call: 905-895-1961
Visit Us: On the Upper Level just inside Entrance 2, near Dynamite.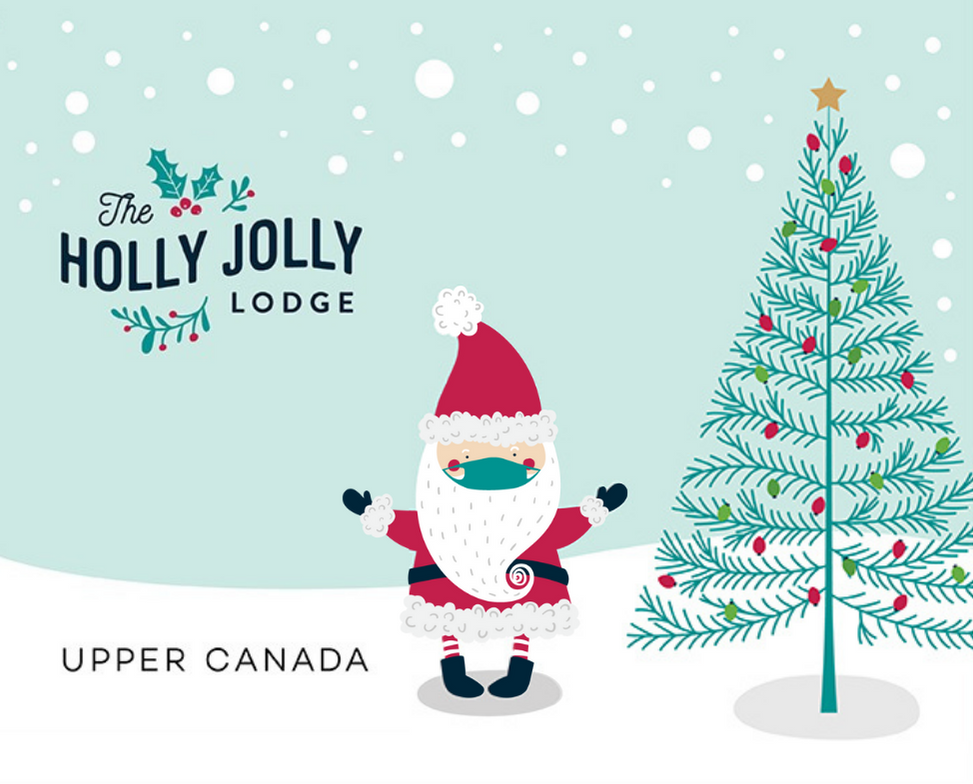 The Holly Jolly Lodge
Book your Visit & Photo Package
The Holly Jolly Lodge is back and Santa can't wait to (safely) visit with you!
November 12-December 24 | NEW LOCATION! Centre court near Dollarama
Time: 11am – 7pm daily; December 24, 10am – 3pm
To ensure social distancing, all visits to Santa must be booked in advance.
Experience the magic of the holiday season at Upper Canada. We have taken every precaution to ensure a safe experience for your family. For a complete list of our safety measures, and what we are doing to keep you safe, please click here.
IMPORTANT INFORMATION
NO REFUNDS
PLEASE DO NOT refresh/go back until reservation is completed. Can't find your confirmation email? Be sure the check your junk folder!
Please only book one spot as we do not offer refunds. You will have the option to reschedule if needed.
Please show up no more than 5 minutes prior to your reservation. Late arrival accommodations cannot be guaranteed and you may be required to reschedule (based on availability)
Rescheduling Policy – Your reservation is non refundable. However if you need to reschedule, you can do so by following the information on your reservation confirmation email
*Your appointment must be rescheduled prior to your scheduled reservation time.
CUSTOMER SUPPORT –  For support and/or issues, please contact Santaphotosoxford@gmail.com
A list of FAQ'S can be found HERE.
TO BOOK YOUR VISIT AND PHOTO PACKAGE, PLEASE CLICK HERE.
Book Now
Package A- $44.99 
Photos will be emailed
2-4 by 6 Prints
2-5 by 7 Prints
8- Wallet Prints
Package B- $34.99 
Photos will be emailed
1-4 by 6 Print
1-5 by 7 Print
4- Wallet Prints
Package C- $24.99
Safety Measures
Visit Santa Safely
Socially distanced photo –  Guests sit on a separate chair
Santa & his elves are all fully vaccinated
Masks are required for all pictures. Clear masks are available with a donation to one of our Charity Partners (Community Living Central York, Ontario SPCA and Humane Society.)
Cash free transactions
Touchpoints are sanitized between each visit, and set is cleaned each morning, evening and when Santa is checking on the elves.
By reservation only
Social distancing protocols – limited guests within experience
For more information on what we're doing to keep you safe, please click here.
FAQ's
Do guests have to wear a mask in the photo? Why?
All visitors aged 2+ are required to wear a mast for the visit and photos with Santa.
The provincial government has implemented restrictions to help prevent and stop the spread of COVID-19. Effective August 7, 2020, this includes mandating the use of face coverings in all public indoor settings across the province, including businesses, facilities and workplaces. Since the Santa experience is in a public indoor space, we are required to follow this mandate.
For the most update information on mask requirements, please visit https://bit.ly/38b4KO0
Why do I have to book a reservation in advance?
Upper Canada and The Holly Jolly Lodge has implemented a reservation-based system this year in order to help avoid line ups to minimize traffic and create a touch free experience. Holiday is a busy time of year, and we are doing everything possible to encourage social distancing and maintain a safe shopping centre for our guests, retailers and community.
Why aren't you doing Baby's First Christmas/Storytime with Santa?
We are slowly reintroducing some of our programs this year, but unfortunately will not be offering Baby's First Christmas and Storytime with Santa. We apologize for the inconvenience, as we know these have been treasured events in the past.
What if I need to reschedule or cancel?
Your reservation is non refundable. However if you need to reschedule, you can do so by following the information on your reservation confirmation email.
Is the experience socially distanced?
In order to maintain social distancing, guests sit on a separate chair from Santa
Store Offers
Enjoy the best deals and offers during this holiday season. Check our Store Offers page for this year's specials.
Looking for a perfect gift for everyone on your list? Purchase an Upper Canada Mall gift card here. Choose from a classic Gift Card, eGift Card (which you can personalize with a warm-hearted message for the holidays) or Corporate Gifting to thank employees or co-workers.
Buy Now